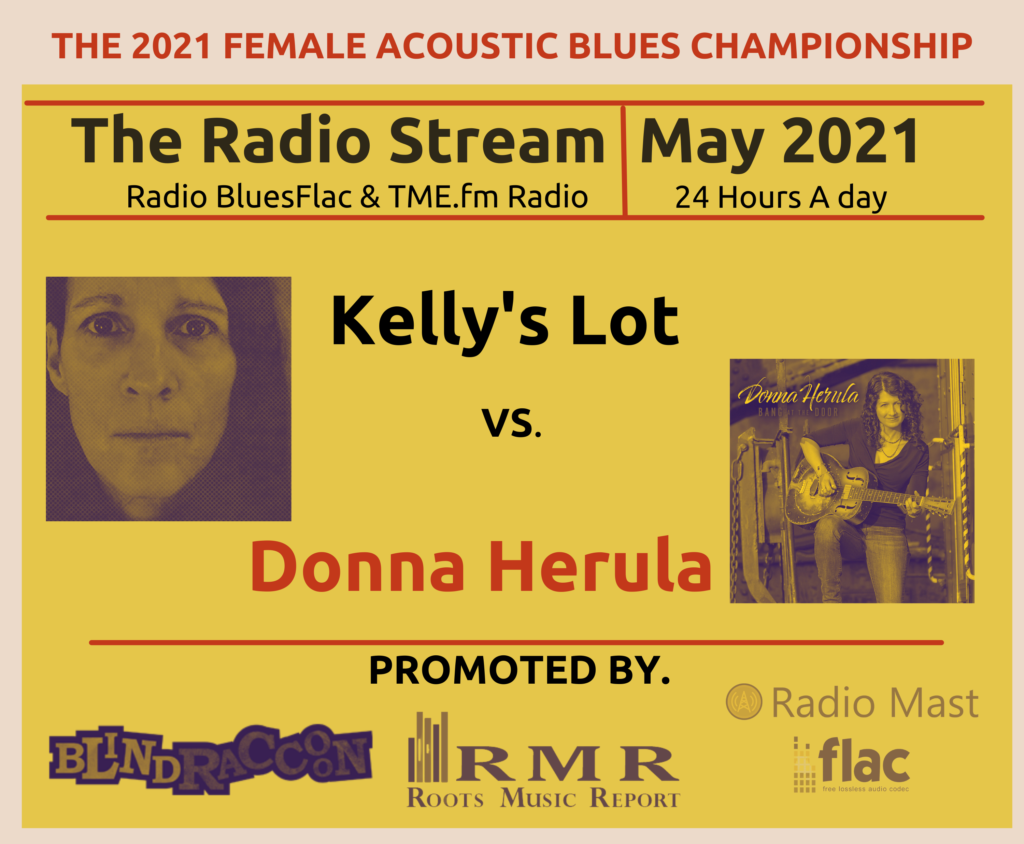 Everyone has done "The Artist of the Month".  Spun "The Album of the Week". Chosen "The Song of the Season".
Spotlighted everything down to the combination of nail varnish Artists wear on fingers and toes.
But not even BBC Radio 6s Chris "Snik" Hawkins has used a virtual combat between two of his favorite female Acoustic Blues Artists and their upcoming album releases as an excuse to give 'em extra airtime.
Sorry "Snikwah", idea is  © ℗®™ .
Going further no one has thought of using his  Son to tweet this link to Mr. Hawkins ad infinitum ♾️ until "Snik" has sniggered and retweeted and mentioned this Virtual Sporting Event on his Morning show.
---
Queensbury Rules have been suspended.
Fight to the finish, probably (a) round 31 (May).
No double taps or back to back tracks from the same same artist. At least while the Referee is attentive.
Album with least number of tracks chooses corner and comes out fighting first.
No more than one hour between the end of round and "Seconds Out" for make- up repairs.
Seconds to be live-in #2's and appear on the album in one or more roles.
---
According to a very small snippet in the Virtual Boxing News, the Referee enjoys looking at his collection of "signed "vinyls and CD's as much as Rod Stewart trains. Dick. goes into a swoon when reading the ones signed "To Richard, my favorite Dick" or just " To my favorite Dick."
---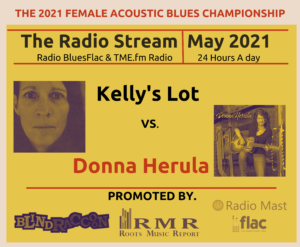 We had a Rumble in the Jungle and a Thriller in Manila in the good old 20th Century. Now in the virtual 21st we get Zirbes takes Belladonna.
Yes L.A's Kelly's Lot taking on Chicago's Donna Herula in a battle of Voices, Guitars and Songwriting.
With Perry and Tony as Seconds in the corners this is a true no punches held, Mano a Mano fisticuffs.
With Donna banging at the door and Kelly asking where and when, everything is finally set up for a head to head cat fight, with the corners prepared for black eyes using black ice.
Referee (spellchecker used.)  Dick "Dykspykable" Slack has been reportedly saying one contestant is "fixin' to Die" and the other "Lost" and in "Heaven".
The weigh-in was held in private as as not to cause any embarrassment (spellchecker again.) but rumors say there was plenty of hair pulling and eye scratching at the post weigh-in cup of tea after Donna demanded Kelly pass the biscuits and Kelly calling Donna "that fool".
---
The bell for the first round starts roundabout now! so get that stream streaming and listen in to what the girls have to offer.
RED CORNER.  https://www.getmeradio.com/stations/tmefmradio-1287/?station_id=1287
BLUE CORNER. https://www.getmeradio.com/stations/radiobluesflac-1288/?station_id=1288
Below are the official statistics of both contestants collated by Rick J Bowen and thanks to Copy/Paste ®™ their pro's and con's in their own words!
---
Career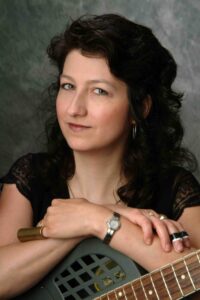 Donna Herula is a Chicago-born singer and acoustic blues slide guitarist that has a passion for playing traditional Delta and country Blues, early Chicago Blues, folk, roots, and Americana in addition to original songs. Using acoustic and electrified resonator guitars, her sound combines her love for music of the Deep South and Chicago with her love of blues guitar improvisation. Her songwriting tips the hat to the tradition while creating a fresh, contemporary perspectives on blues and roots music.
In 2016, Donna was inducted into the Chicago Blues Hall of Fame. The same year, Acoustic Guitar Magazine featured her in an article, "Down and Dirty: 10 contemporary resonator players talk about their love for that nasty sound." In April 2018, she was featured in the Blues Blast Magazine article, Chicago Blues Guitar Women.
Donna has been a regular performer at Buddy Guy's Legends in Chicago for the past 10 years and has opened for Buddy Guy multiple times. She has performed at the Chicago Blues Festival, King Biscuit Blues Festival, the Juke Joint Fest, the Mississippi Valley Blues Festival, the Woodstock Folk Festival, Fox Valley Folk Music and Storytelling Festival and was also the headliner at the Durban International Blues Festival in South Africa.
Donna is a guitar teacher at the Old Town School of Folk Music in Chicago where she teaches fingerstyle and slide guitar. She has taught at Blues & Swing Week at the Augusta Heritage Center of Davis & Elkins College (WV) and the Great Guitar Camp (NC). She has provided numerous Blues in the Schools and blues educational programs. She plays solo, in a duo with her husband, Tony Nardiello, and in a trio/band. Donna's inspirations include: Son House, Fred McDowell, Muddy Waters, Johnny Winter, Lucinda Williams, Lyle Lovett, and Rory Block.
---
Career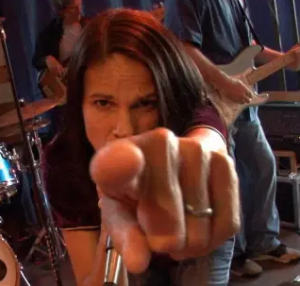 Kelly's Lot was formed in 1994 by Kelly Zirbes, a folk singer/songwriter with a heart for the blues. With
15 CDs and lots of touring in the USA and Europe, the band celebrates 27 years since the first night the
band hit the stage at the Roxy in Hollywood. Kelly Z met guitar player and soundman, Perry Robertson in
1996, who soon after produced 'Kelly's Lot – Live at the Troubadour'. Within a year he joined the band,
started writing songs with Kelly Z and added the southern rock and Texas influences that have shaped
their sound.
As a duo or band, they have played coffee shops, theaters, festivals, clubs, house concerts and a variety
of events. In the last 10 years they have played as a 5–8-piece blues band that is well respected in the
American blues scene. Some of the larger festivals they have played are Waterfront Blues, Simi Valley
Cajun and Blues Festival, Ventura County Blues Festival, and Lavaudieu Music Festival. Their songs have
been heard in movies and television and covered by other artists.
Perry Robertson, who shares songwriting and band leader credits with Kelly Z, has recorded and
produced most of the band's music including the 2019 release 'Can't Take My Soul' which featured
Americana, Blues, Folk and Roots/Rock creations. In May and June of 2020, Kelly Z and Perry worked
with Doug Pettibone to record a new selection of songs, 'ANOTHER SKY' that also fit in
those Americana genres including six of the tracks on the album that were inspired by words from fans
on Facebook. The album charted for several months in the top 10 on the Roots Music Report
Contemporary Folk and top 20 on the Folk chart as well as in the top 50 Folk DJ chart in the fall 2020. In
2021, it was back to the Blues with Kelly and Perry working again with Pettibone to record this 'LIVE to
Digital' Acoustic Blues release, 'WHERE AND WHEN' that releases on June 11.
---
A brief perusal of their strong points by the ladies themselves.
TRACK NOTES FROM KELLY
1) Stronger – Kelly and Perry were inspired to write this song by everything happening in the world. So
many are feeling down, depressed, and trapped. We wanted to remind them that maybe these
challenges will make us all stronger. A hopeful song to help us come out of a tough situation.
2) Somebody In My Home – Kelly chose this song from Howlin' Wolf for its slow-moving groove and
message about infidelity and who's to blame. We all want love in a relationship but without it we may
stray. Howlin' Wolf writes the lyrics as the person who didn't love their partner enough, which created a
path for his lover to welcome someone else into his home.
3) Heaven – Kelly wrote the lyrics to this song after hearing Perry fiddling around on the guitar. Took
them about 15 minutes from fiddling to finishing the song. They like to think of this song as a spiritual
that doesn't want to surrender. The truth is we don't want to miss out on things when it is our time to
leave this earth.
4) Jealous Hearted Love – Lovie Austin wrote this, and Ma Rainey made it known. It's one of Kelly's
favorite Ma Rainey tunes and Lovie's lyrics about jealousy makes for some smiles instead of the 'pit in
your stomach' jabs you get when you feel it.
5) Lost – Perry challenged Kelly with a few guitar riffs to sing slower than she was used to and these
words just came out. Depression is universal and those who feel it also know what it's like to be lost.
6) Nature – Another great twist by Howlin' Wolf. His lyrics explain how it is natural for a man to be lookin'
around or even being unfaithful. The twist is singing it as a woman who also has that choice. The upbeat
vibe makes for a little fun.
7) Where And When – This song was written for a project Kelly did about grief. But it was also inspired by
the idea that we don't spend enough time with each other.
8) Stones In My Passway – Kelly knew she had to do this song by Robert Johnson because everyone can
find a message in these lyrics. We all have stuff that gets in our way including those who love us and
promise to respect us. You can also find a darker message too if you look for it, but it will come from
your own experience because these lyrics let you do that!
9) That Fool – Kelly and Perry wrote this to express the deep sorrow of loving someone who doesn't love
you back and the quest to find a way to stop doing it.
10) Black Eye Blues – The hard part about covering this song is Kelly's mother lived the same experience
as 'Miss Nancy Ann'. Domestic violence is too common of a thread in our world, but these lyrics and
upbeat music give some hope in finding strength and hopefully making the decision to leave
11) Ship – The phrase, "My ship is about to come in" morphed into this song about waiting for your ship
when all along it is waiting for you to get on board.
TRACK NOTES FROM DONNA

Bang at the Door: Pop/rock blues about a late-night visitor
Pass the Biscuits: New Orleans style about relationship between musician and radio DJ host
Can't Wait to See My Baby: Chicago-Blues style duet about the excitement of love
Promise Me: Folk song about the loss felt when a loved one is in prison (with slide guitar and mandolin)
Not Lookin' Back: Jazz lounge singer style about leaving a partner with a drug addiction
I Got No Way Home: Chicago blues jam with piano, harmonica, guitar and three-part harmonies
Black Ice: Brooding slide guitar instrumental
Fixin' to Die: Traditional Delta Blues with slide guitar solos (cover)
Jackson: Ballad with acoustic guitar and slide with male lead and harmonies (cover)
Movin' Back Home: Comical ragtime song with call and response
Got What I Deserve: A woman's view on the tribulations of motherhood (with fiddle)
Who's Been Cookin' in My Kitchen: Double entendre solo, acoustic blues
Something's Wrong With My Baby: Heartfelt vocals, desperation with loving a man with depression
The Soul of a Man: Blues gospel with harmonies (cover)
---
The after fight press conferences will also be held "in camera" and no cameras allowed.
There will be no questions asked and an Official Press Release will be passed round.
Finally a round by round summary will be posted here after being written with two of the three most influential voices in my life resonating in my head.
Proudly dedicated to Eammon Andrews, Harry Carpenter and "mi Dad" whose knee I sat on to listen to the Boxing. "Why Dad?"