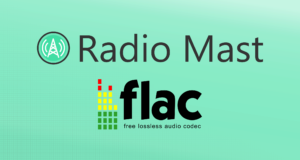 Over the last two months we have tried numerous Android Apps for phones and tablets and most you can listen to us but without song/artist info. Most are plagued with adds and in store purchases.
We have been using one that plays Radio BluesFlac, sounds great, is basic with no adds AND song info for the last week with no problems what so ever.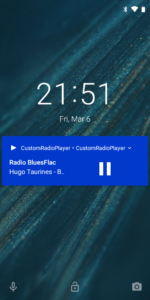 CustomRadioPlayer – Basic URL-RadioStream App.
Once installed press the 

  and type in http://streams.radiomast.io:80/radioblues-flac You only have to do it once so the couple of minutes spent are worthwhile.
CustomRadioPlayer – Basic URL-RadioStream App
CustomRadioPlayer enables convenient listening to radio streams.
Those streams can be added manually or can be imported from a file/URL.
The app supports custom logos, so you can get a good overview of your saved radio stations.
Features:
★ Fast buffering with adjustable buffer sizes
★ Allows to easily switch between multiple radio streams
★ Displays metadata like title / artist for supported streams
★ Custom station logos
★ Lightweight user interface
★ Import and export of the streamlist
The focus during development was on playing internet radio streams while being energy-saving and straightforward.
Depending on your OS version, the following media formats are supported:
★ For streaming : ASX, FLAC, MP3, OGG, WAV
★ For import: PLS, M3U / M3U8 (basic support)