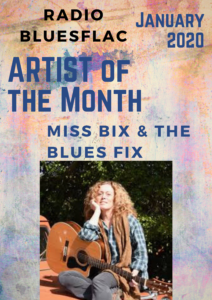 We had to start somewhere and over at TMEfm Radio they have fallen in love with Miss Bix so to keep them happy we have chosen Leslie to start us off.
BIOGRAPHY
LESLIE BIXLER aka MISS BIX aka LESLIE LETVEN has been writing, recording and performing since her early twenties.  Her first international record "Make It Right" was released on Syndrome Records under her maiden name Leslie Letven and did very well in the smooth jazz category, reaching #12 on the charts, and still receiving radio play today. At that time, she was collaborating with her talented husband Bill Bixler of the Wild Blue Band and nightclub.
Moving back to LA, Leslie and Bill produced and self-released "Porcupine," which she sold at gigs and on CD Baby. After the birth of her son, Leslie turned her attention to children's music, spending several days a week doing music circles with preschool age children. It was there that she wrote and test-ran several children's songs which attracted the attention of Dick Van Dyke and Chad Smith (drummer of the Red Hot Chili Peppers), whose child was in her class. She produced two albums "Moon Food" with Dick Van Dyke and "Rhythm Train" with Van Dyke and Chad Smith. She toured with Dick and Chad promoting those albums and received notable press from many celebrities and publications and won a parent's choice award.
Once her son grew up, Leslie's yearning for a new musical start led her to Clarksdale Mississippi where she fell seriously in love with the blues, something she had always gravitated towards. Working with co producer collaborator Ralph Carter (former Musical Director with Eddie Money and co-writer of his hit tune 'Shakin'') Leslie began writing "We Don't Own The Blues," a group of blues-based songs that reflect a new and exciting musical direction: passionate, intense, and sultry.
WE DON'T OWN THE BLUES
The concept of this collection of songs is inspired by the home of the blues, the Crossroads in Clarksdale, Mississippi. Leslie Bixler (aka Miss Bix) spent several months there soaking in the culture and learning the blues from the founders themselves. This is a rare find, 12 songs that pack a punch, in a conceptual flow, reminiscent of days past, when albums told a story.
Leslie Bixler and co-producer Ralph Carter (previously with Eddie Money and Sugaray Rayford), who brings bass, percussion, guitar and keys to many of the songs, are joined by John 'JT' Thomas (keyboardist with Hornsby), Gary Mallaber (drummer previously with Van Morrison, Steve Miller and more), blues guitarist extraordinaire Franck Goldwasser (aka Paris Slim), sax man Bill Bixler, and harp player RJ Mischo.
The songs reflect the culture that permeates the south – 'Voodoo Man,' 'Black Widow,' 'Slave To The Grave', and 'Crazy 'Bout You' all have the smoky sensuous sound of the bluesy south. At the same time, Bixler creates a sound and voice that is all her own, and each song tells a different story. The Hendrix inspired 'You're A Child' harkens back to the excitement of early rock days, and features the amazing RHCP drummer, Chad Smith, with whom Leslie worked on the children's album "Rhythm Train." The opening track 'Follow Me Down' draws the listener in with a trance-like psychedelic groove and from there the excitement builds.
Artistic influences like Sheryl Crow, Bonnie Raitt, Peter Gabriel, Sting, John Mayer, and many others weave together in this altogether new package. Hints of Motown are perceptible in the R&B feel of 'Baby Come Back' and the ending cut is a sensitive homage to the muse herself, that never ends, in 'All The Time.' The title cut 'We Don't Own The Blues' is a playful look at the nature of love and heartbreak, and is destined to become a blues classic, as is the romping 'If You're Doing What I'm Thinking.' The vocal stylings of the heartbreaking ballad 'It Wasn't Me' are beautifully framed with the gorgeous keyboard virtuosity of John 'JT' Thomas.