"Thank you for the spin!
I am a big fan of flac (and especially 24bit Hi Res Flacs!) so it's great to see radio embrace this format – so much more depth to the music and much nicer on the ears!
Fab stuff!"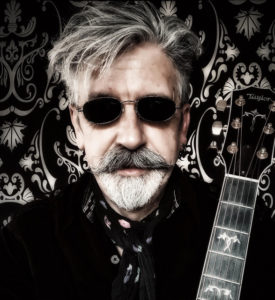 Thanks Wily, good to know we have had a listener, a listener who knows his flac not just a listener.
As the first good post on Twitter mentioning flac it will be cherished.
Wily Bo Walker is a solo artist, songwriter, composer and performer noted for his characterful vocals and swaggering 'live' performances
Renowned as being a diverse and prolific artist and hailing originally from Glasgow, Scotland, Wily Bo works across many styles and genres; Rock, Blues, Gospel, Soul, Classic R&B, Jazz, AAA and Americana
From his huge New York based 'blues and soul revue' productions to his UK based, New Orleans themed, 'Rattlin Bone Theatre Show' and from his acoustic swamp'n'stomp Americana 'VoodooVille' shows through to his stripped-down & kickin' 4 piece Rock & Blues 'Wily Bo Walker Band', Wily Bo proves why he has been recognised as an Artist who can twist genres into new forms and has been inducted in to, and is worthy of, the 'U.S. Blues Hall of Fame' accolade of 'Master Blues Artist'
An independent Scottish artist, selling into 70+ countries and with a huge global following on streaming sites like Spotify (1.5 million streams 2017/2018), his previous release 'Moon Over Indigo' (Sept 2015) was considered for a 2016 Grammy nomination as was his prior collaboration with Grammy Award winner, Danny Flam; 'Wily Bo Walker & The Danny Flam Big Band' (Nov 2013)
Working with guitar supremo E. D. Brayshaw, the album 'The Roads We Ride' was released in March 2019, charted worldwide and received spectacular reviews
Expanding upon the success of  'Moon Over Indigo', Wily Bo and Danny Flam are currently working with some of the cream of U.S. & U.K. musicians on a new volume of music that explores the genre-twists that have come to be expected of a Wily Bo production. The album is entitled 'Ain't No Man a Good Man' and will be released early 2020
All roads lead to VoodooVille…